I've been stock piling beers cans for too long, and running out of places to put them. Normally this is not an issue and many crush cans with their hands or feet to save space.
The thing is that a while back, probably a year or two ago I decided I was going to build a can crusher. Since it was a project in the making, or a future dream I didn't want to take that away from myself by crushing cans the old fashioned way.
A friend had told me about their plan to make a can crusher, and to be honest I don't know if they ever finished it. This weekend I decided it was time to make the trek to Pricess Auto to pickup what I thought I needed.
So before I headed out I jumped on YouTube and wached a bunch of can crushing videos. I was actually surprised at how many can crushers used electric or gas powered flywheels to crush cans. I saw one video where the builder had used a push button as the trigger and I knew that's what I was going to be using as well.
First I had to detemine how big the pneumatic cyclinder would be, and since I had a lot of king cans kicking around I knew that the stroke had to be at least 160mm.
Princess Auto has 150mm and 200mm cyclinders, so that narrowed the field. For the bore size I went mid range at 40mm as it seemed reasonable that it would carry enough oomph! to crush an aluminum can.
I wasn't sure what fitting to buy and was actually surprised at all the different types. There are M , T and V fittings. There are others but some are for 3/8″ which I didn't think I needed (this setup is 1/4″). In the end one of the sales reps pointed me to a V fitting for connection to my compressor.
The V fitting worked, but after doing a bit of research I should have gone with an M connector as it appears that is the standard for home DIY compressor setups. If there was something to change on the parts list, I would swap the V connector for an M connector. That said, depending if the setup is industrial the connector would be T; I think V works for both.
The crusher in action..
The parts list:
Part numbers are from Princess Auto and listed for reference.
Air Compressor Connections
1 x 2pc 1/4″ NPTM V-Style Plugs (#8455628) – may be fine with M Style
1 x Female Hose Coupler Pneumatic Fitting (#8819567)
Cylinder
2 x 90° Male Hose Coupler Fitting (#8819583)
1 x 40mm x 200mm Stroke Pneumatic Cylinder (#8188278)
Push Button
3 x Male Hose Coupler Pneumatic Fitting (#8819575)
1 x Pneumatic Push Button Control Valve (#8190472)
Additional Miscellaneous
63mm Pneumatic Cylinder Foot Mount End (#8188419) – 2 in a pack
1/4″ Polyethylene Pneumatic Hose (by the foot or roll); need enough to reach compressor
2×4 stud ripped to 3″ x 21.5″
1×4 or 1×6 side struts approx. 11″; big enough to hold the can while crushing
also a small piece of 1x~4 to attach to the hammer of the cylinder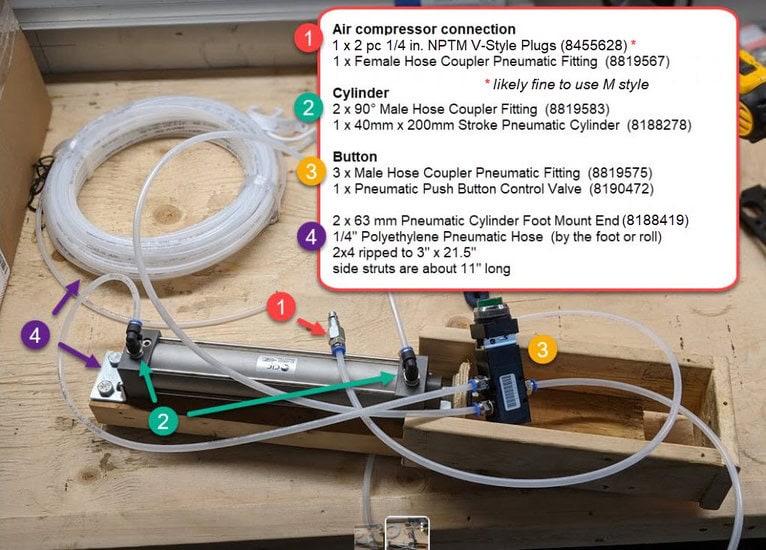 Here is my stockpile of 475 beer cans (finally) crushed and ready to return.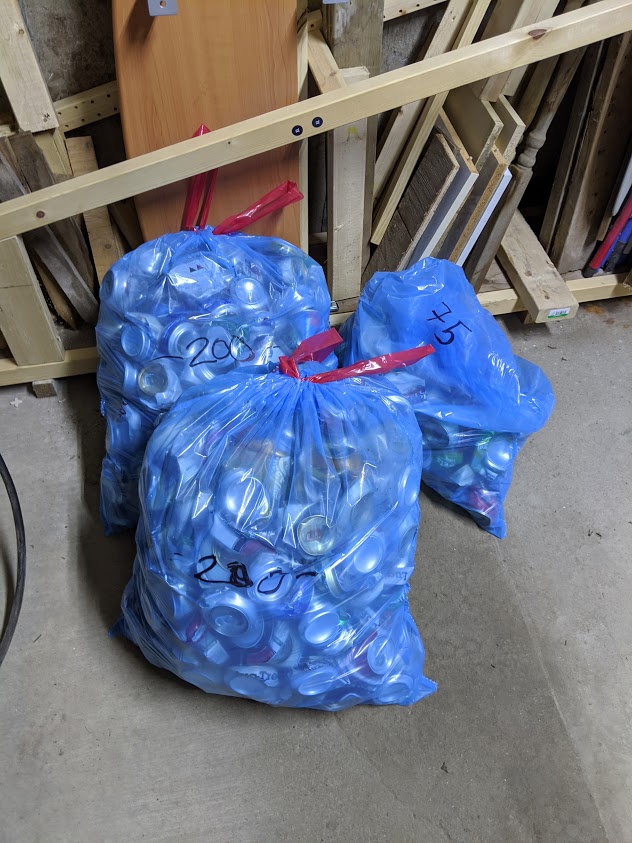 And now I see cans to crush everywhere!